AssN9 Ranch
SHAWNEE, OKLAHOMA
Miniature Mediterranean Donkeys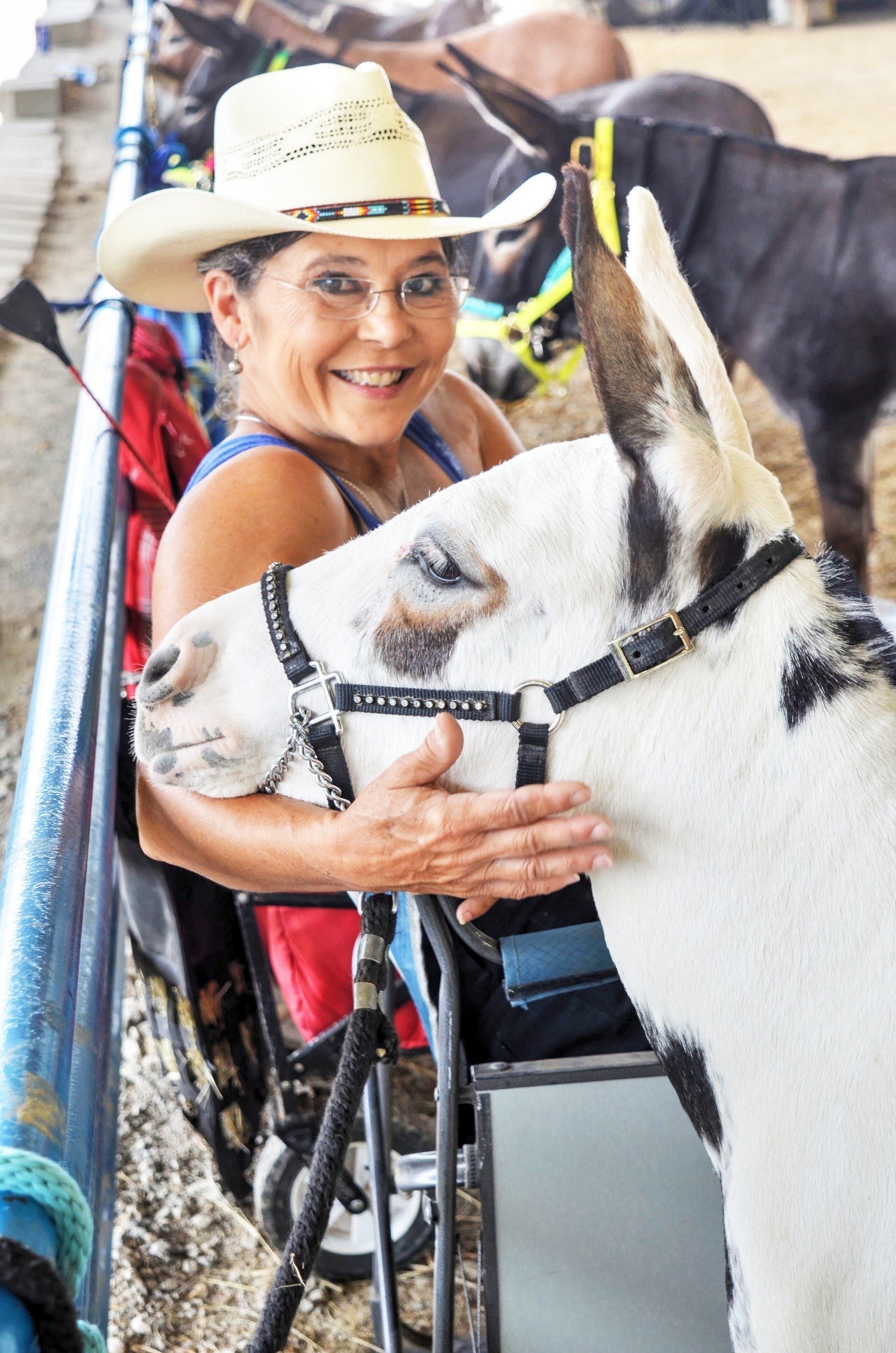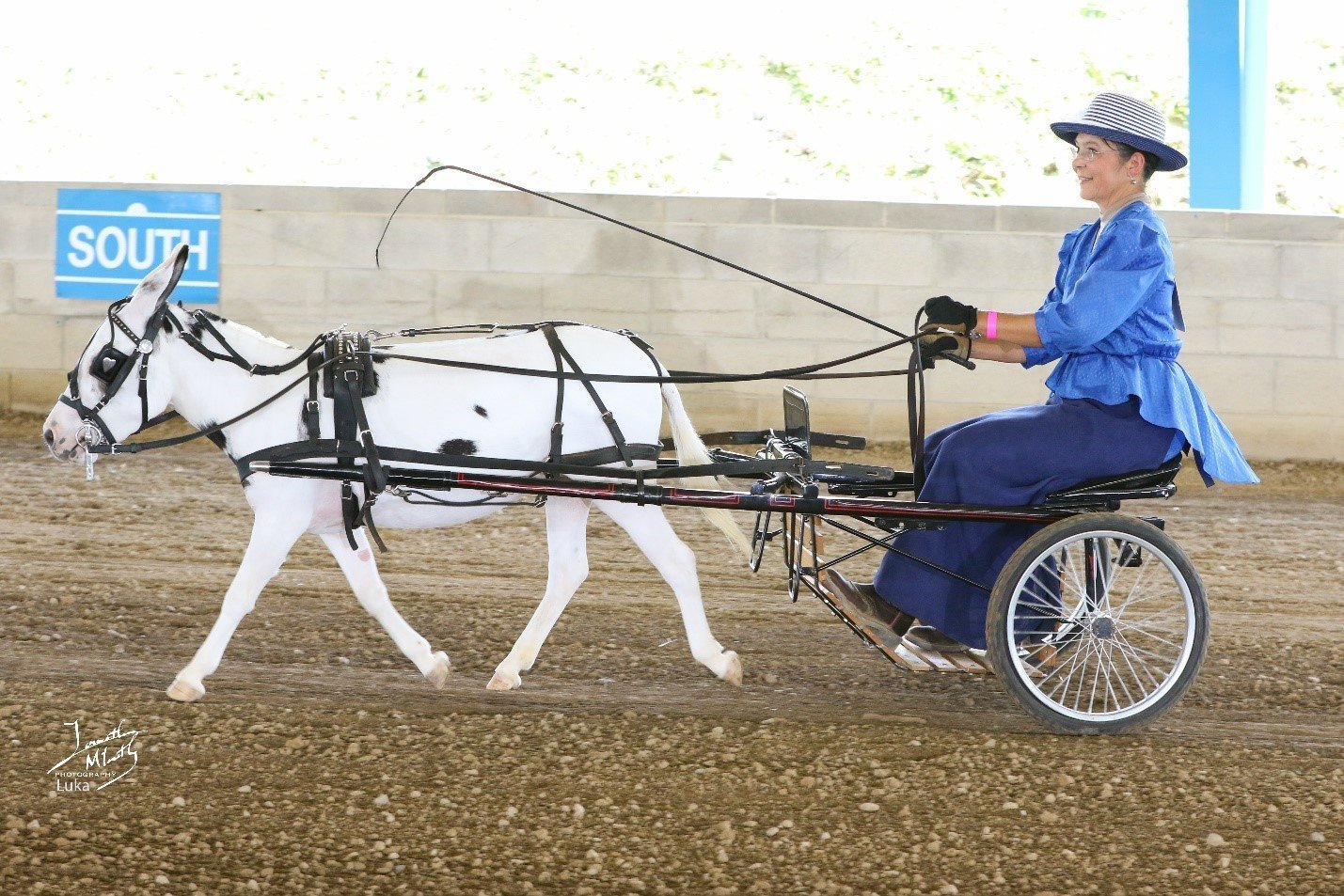 AssN9 Rowdy's Reckless Legacy
(aka "Reckless")
Reckless is quite the appropriate name for this little girl. She was born here at the ranch, and as a foal she never went anywhere slow! And she had the "signature AssN9 tail swish" going on the whole time. She looked like she had a little helicopter on her butt everywhere she went.
Her Sire, Sunset Acres Rowdy Yates, produced many champion halter donkeys. And her dam, Bluegrass Mallery (a daughter of our late herdsire, BlueGrass Littlejohn- our primary performance jack) won the NMDA National Year End High Point Champion in 2014 and 2016. Reckless has both the halter and the performance characteristics. Her first show she won Model Donkey, she has a National Reserve Champion ACOSA Jennet title from Shelbyville, and Reserve Champion ACOSA at Arkansas State Fair, and now the great honor of being the 2017 NMDA National Year End High Point! We could not be happier.
Reckless is small for a performance donkey, measuring in at only about 32.5 inches. But she is very strong, fast (did I mention she does not go anywhere slow!), and has the biggest heart of any donkey I have handled yet. She just tries so hard. This is the first year she has been shown in performance and she is only 4 years old, so we are very excited about this title. Over the whole year, we only won one Reserve Champion High Point title, and we tied for one more. But she was almost always in the ribbons, and is just so fun to handle because she tries so hard.
Reckless was also honored this year by the American Donkey Association (ADA) with the Excellence in Driving Award and an Excellence in Halter Award. These are awards in which the donkey accrues points at each show. They must show under at least three different NMDA judges to earn the titles. Thank you ADA for offering these awards.
As some of you know our foundation herd sires were Bluegrass Littlejohn (produced amazing performance donkeys) and Sunset Acres Rowdy Yates (producer of outstanding halter donkeys).
Our strategy was to breed the Littlejohn Daughters back to Rowdy (and vice versa).
Little Reckless is the only cross like that we ever got as both jacks died the same year.
Our motto is, "Pretty, Performance, PERFECTION".
That is exactly what we have with Reckless.
She does well in halter and excels in performance.
2017
Reserve High Point Champion – Ozark Empire Fair
A
COSA Reserve National Champion Jennet—Music City-Shelbyville, TN
2017 NMDA High Point Jennet of the Year
2018
High Point Champion Green – 2018 Kansas Donkey Days (2018 National Show)
A
COSA Grand Champion —2018 Kansas Donkey Days
2019
High Point Champion Open – 2019 Diamonds and Donkeys--Magnolia, AR
High Point Champion Open – 2019 Longears Classic--Belton, TX
Reserve High Point Champion Open – Texas State Fair (NMDA National Show)
High Point Champion Open – Oklahoma State Fair--OKC, OK