AssN9 Ranch
SHAWNEE, OKLAHOMA
Miniature Mediterranean Donkeys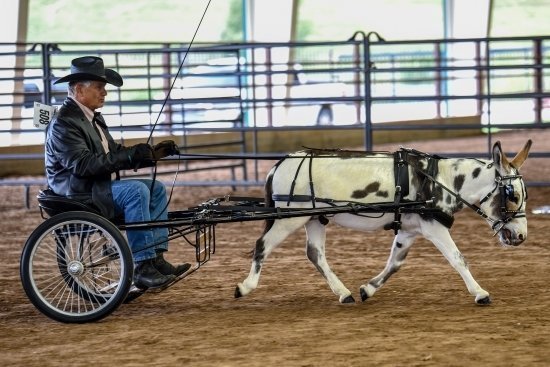 AssN9 Storm Chaser
StormChaser was born here at AssN9 Ranch. His sire was our performance jack, Bluegrass Littlejohn, and his dam is one of our best producing halter jennets, Frontier Legend's Ella Watson. He is named Storm Chaser because he was born on the heels of major storm.
Storm Chaser is a full sibling to our first National High Point Champion Jennet AssN9 Cloud Nine. He won several NMDA performance and halter honors this year. He won the 2019 NMDA Reserve High Point Green at the NMDA National show. He is a good representative of our breeding program…"Pretty, Performance, PERFECTION"!
Finale is a very stocky and moves exceptionally well which makes him a great driver. He also loves the in-hand events, and is absolutely fearless. He and Jim make a good team. I am pretty sure Jim is also partial to Storm Chaser above most of the other donkeys here at the ranch. Storm Chaser is the easiest jack to handle and rarely brays at the shows. He is not aggressive to other donkeys, he does not "mouth off" every time another donkey does, and just goes with the flow of whatever you ask him to do. He LOVES attention and is very patient with little kids.
2019
Reserve High Point Champion Green – NMDA National Show -- Texas State Fair
Reserve High Point Champion NonDriving – Longears Classic -- Belton TX